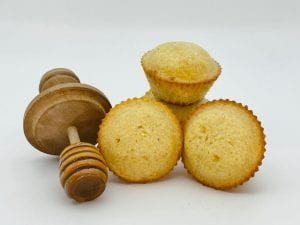 We are huge fans of cornbread in our house, so when I saw the below recipe on Decadendtly Delicious, I thought I would share for Thanksgiving. This is definitely one of the recipes I will be making this year.
Ingredients:
1 cup  all-purpose flour
1 cup yellow corn meal
1/2 tsp. baking soda
1/2 cup sugar
2 large eggs
1/2 tsp. salt
1 cup buttermilk
1/2 cup of melted butter
1/2 cup honey
Preheat oven to 375° F.
Spray muffin pan with cooking spray or place liners.
Next mix all the dry ingredients in a bowl. Mix the corn meal, flour, baking soda, salt and sugar until they are mixed well.
In another bowl whisk the eggs well until they are blended, than add the buttermilk, honey and butter. Mix everything together.
Combine the dry ingredients with the wet ingredients. It's important to not over mix!
Pour mix into muffin pan. Bake for about 15-20 min. Let the muffins rest outside the oven for a few minutes before serving.   
This recipe makes about 12 muffins.