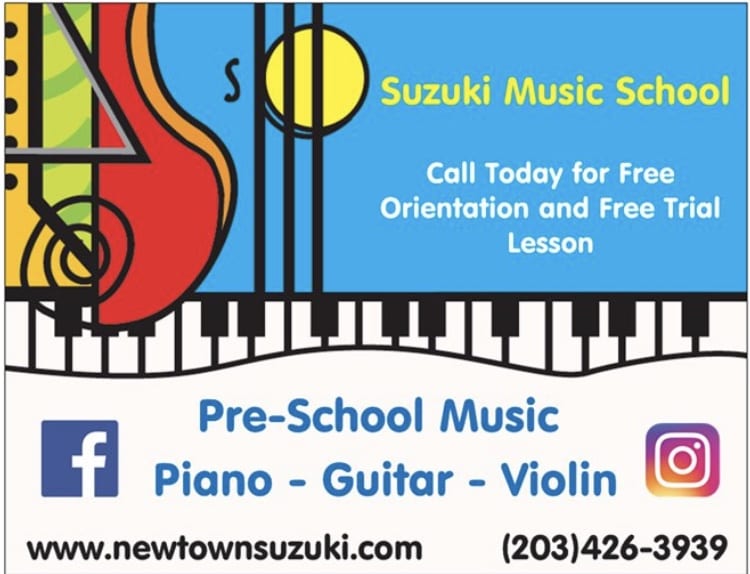 Evolve Therapy, LLC – Tummy Time Classes for babies
P: (203) 456-4855
E: [email protected]
NYA Sports & Fitness
4 Primrose Street
Newtown, CT
P: (203) 426-0088
E: [email protected]
Fit4Moms – Northern Fairfield County
M/W/F – 9AM Danbury Fair Mall
T/TH – 9:30AM Portuguese Cultural Center, Danbury
P: (425) 210-8589
E: [email protected]
Yoga Space
78 Stony Hill Road
Bethel, CT
P: (203) 730-YOGA
E: info@yogaspace_ct.com
Music Together of Newtown, Monroe, and Trumbull
P: (203) 521-3013
Gymnastics Spectrum
69 Kenosia Avenue Extension
Danbury, CT
P: (203) 790-8034
Mommy & Me Salt Sessions 
Newtown Salt Spa
43 South Main Street, Suite 3
Newtown, CT
P: (203) 491-2212
Newtown Center Pediatrics
10 Queen Street
Newtown, CT
P: 203-426-3267
Auerbach Pediatrics
25 Church Hill Road
Newtown, CT
P: (203) 426-KIDS
E: [email protected]
Center for Pediatric Medicine
107 Newtown Road
Danbury, CT
P: (203) 790-0822
Pediatrics Associates of Western CT
41 Germantown Road
Danbury, CT
P: (203) 744-1680
Optimum Medical LLC
48 Main Street
Danbury, CT
P: (203) 628-2050
RTR Pediatrics
30 Germantown Road
Danbury, CT
P: (203) 628-7891
Brookfield Children's Physicians
2 Old New Milford Road
Landmark Building, Suite 2D
Brookfield, CT
P: (203) 489-KIDS (5437)
Center for Pediatric Medicine
11 Route 37
New Fairfield, CT
P: (203) 746-3280
Candlewood Valley Pediatrics
120 Park Lane, Suite A-101
New Milford, CT
P: (860) 355-8190
E: [email protected]
Therapists
Newtown Family Therapy
10 Queen Street
Newtown, CT
Katie Nash, LCSW
Dr. Roseann & Associates
898 Ethan Allen Highway
Ridgefield, CT (Satellite office in Newtown)
Dr. Roseann Capanna-Hodge,
Lori B. Capri, MS, Holistic Counseling
7 National Place
Danbury, CT
30 Bridge Street, Suite 3
New Milford, CT
Carol Ann Murphy, LPC
Southbury Wellness Center
Rebecha Sullivan, LCSW
Connecting Hearts Therapy
Online Sessions available to CT residents
Destiny Girard, LMFT, PMHC
Samantha Nilsson, LCSW
Mind Body Motherhood, LLC
755 Main Street, Building 3
Monroe, CT
P: (860) 357-1734
E: [email protected]
Postpartum Support
 *The organizations below provide a variety of services, Some are online only, while others are local. I've indicated the ones based in our area.
Postpartum Support International
International non-profit working to provide support for women & their families during pregnancy and the postpartum period. Their objective is to increase awareness around the mental health challenges related to childbirth and parenting.
Contacts for Fairfield County are:
Debbie Shillingford
Eastern CT: Fairfield County (Northern)
203-529-1380 TEXT OR CALL
[email protected]
Kate Murphy
Eastern CT: Fairfield County (Southern)
203-539-0698 TEXT OR CALL
[email protected]
Strong as a Mother
Now offering a weekly postpartum support Zoom call
Newtown, CT
Offering childbirth education, breastfeeding, and baby basics classes. Now offering postpartum support via Zoom. .
Baby Botanica
412 Clocktower Commons
Brewster, NY
Offering a variety of prenatal and postpartum services.
Here for You Mama
Dance Therapy
Trumbull, CT
Offering dance therapy for postpartum mothers
The Parent Collective
Westport, CT
Offering prenatal & parenting classes.
Moms Circle Fairfield County
Group meets bi-monthly on Thursdays.
NICU Support
The Tiny Miracles Foundation
Providing support for parents of babies in the NICU at Danbury Hospital.
Is there a resource for new moms we should know about?