Taking on a full building renovation and developing concepts for not one, but two restaurants is no small undertaking, (not to mention during a global pandemic), but Marygold's on Main & Good Old Days Pizza successfully opened with a lot of buzz in January. I had the chance to talk to owners Kate & Clark Neugold about the history of the building, what they've done with the space, and their plans for the future.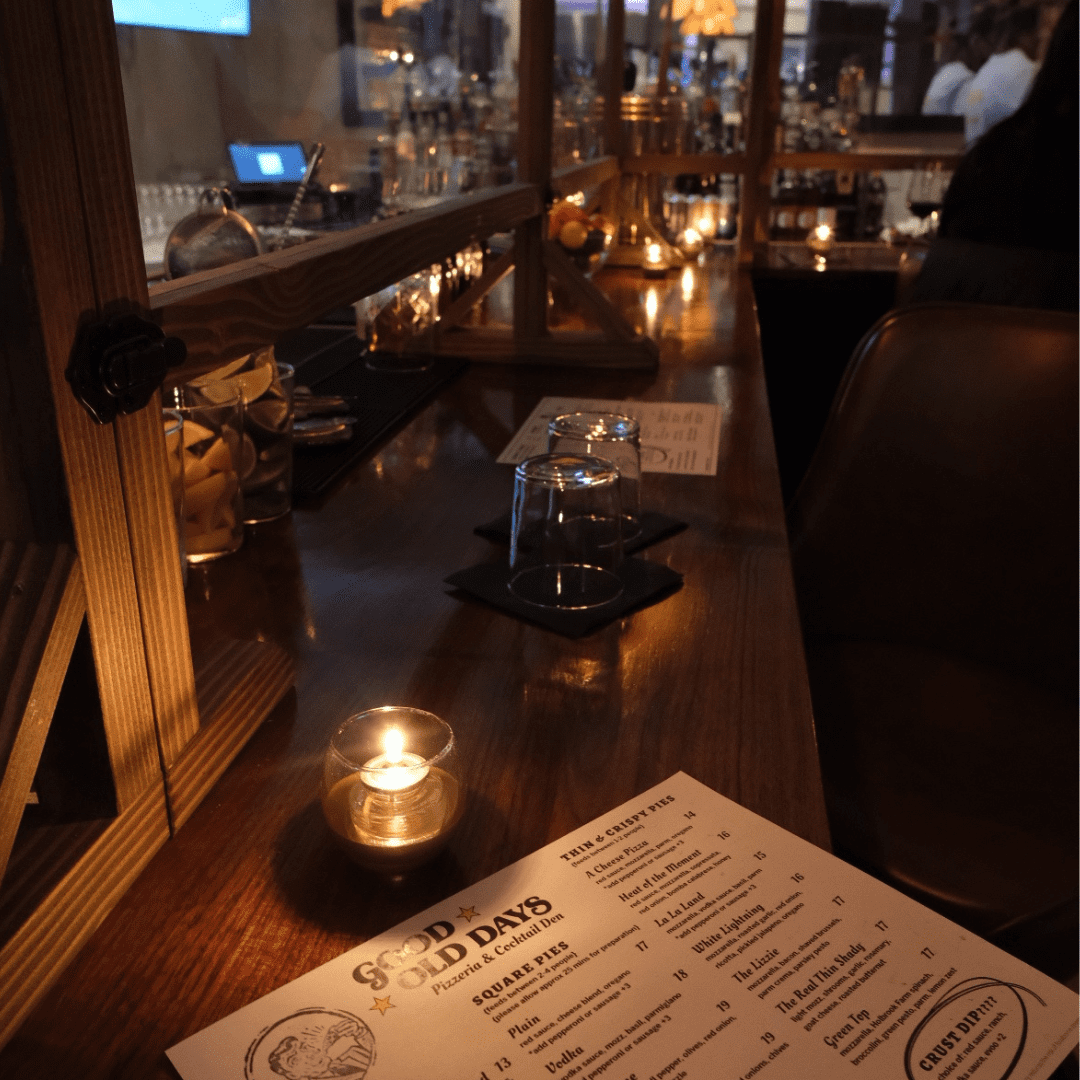 For those who don't know, Marygold's & Good Old Days are located right in the heart of Newtown on Main Street, in the old Newtown Inn. Your location has a ton of town history, can you share a bit of the history and why renovating this space was important to you?
Yes! That was one of the main reasons we were so interested in this project. We love historical buildings and find the charm, details, history and nostalgia so unique to dining spaces. With Marygold's, it was home to many people through the years and was a place to stop for travelers to and from CT and NY. It was also home to Mary Hawley, Newtown's resident and philanthropist. It has been renovated a lot, but it has always managed to be some kind of hospitality location dating all the way back to the 1800's and that was what was so intriguing to us. I spent a lot of time at Edmond Town Hall dancing as a kid, so I have a special connection to Main Street and the Inn, so being able to renovate and bring the building back to life was really special for me. The fact that we were able to be a part of a team that saved a piece of history is something I will cherish forever.
Let's talk a little bit about Marygold's first. How do you come up with the concept for the restaurant and how is it different from your other well-known spot in town (The Foundry)?
For years, Clark and I toyed with the idea of renovating the Foundry to what our "dream restaurant" would be, which is what Marygold's is. A clean, simple, modern design, in a historical building. It is still a work in progress, we actually have a lot more to do and are still working on things! But we really wanted to merge past with present at Marygolds. From food to design we wanted people to feel like they were stepping back in time, but with a bit of a facelife. Foundry is very different from Marygold's, and we love that. Clark and I are both very creative, so its fun having different places with completely different concepts. Marygold's is a more contemporary, clean, modern space. And Foundry is much more rustic, industrial, casual.
The design of the restaurant is beautiful, a blend of modern & contemporary, while still keeping the historic past of the space in mind. What inspired the design? And what are your favorite elements?
Thank you! I feel like living in Charleston, SC definitely inspired a lot of the design ideas from Marygold's. (And, watching too much MadMen during quarantine). Charleston is filled with beautiful historic restaurants, that have modern contemporary design. We would always go out to eat places and talk about things we loved, like the chairs, the bars, the lighting and stored these little ideas through the years. Clark and I have always loved gold/blue colors. And I studied art, so I knew one day I would want more contemporary, colorful, interesting pieces in our dining space. So everything kind of came together perfectly.
Please share a little bit about your decision on the name. I know this is another area in which the past & present blend.
We thought so hard about the name, we had a running list going for months and it was so hard to decide! We knew we wanted to combine past with present and stick with that theme. We started hitting a wall and we asked our family for advice, and late one night, Clark's mom actually texted us "Marygold's!!" and we knew right away that was it…. Its half Mary Hawley's name and half Neugold. We love it!
I think we can all agree that we're looking forward to attending events soon. I know Marygold's will offer events, such as dinners, bridal/baby showers, and even weddings. Can you share a bit more about how events at Marygold's will work? What is the best way to find out more information?
Yes, we are focusing a lot of energy on making Marygold's a premier events space for the surrounding area. We are so excited restrictions are being lifted and we have had so many people reach out about bookings. We have a bridal suite upstairs, two bars, three banquet rooms to choose from. Its a beautiful location for an event with so much space. Patty McCartney (who is actually my mother!) is our Director of Events. You can contact her at [email protected]. Or stop in Friday or Saturday night when I am working and I can give you a tour.
What drove the decision to add Good Old Days Pizzeria & Cocktail Den into the space? And how would you describe the scene downstairs (or in the dungeon as the website says)?
Good Old Days is really special to me. It is one of those things that just kept morphing into something bigger and better. The old Proud Mary's used to be down there and when we first walked in it felt like a dungeon; moldy, scary, dusty, very strange furniture…thats where the dungeon came from. We wanted to do a "speak easy" kind of bar at first. During the process of renovating we reached out to Matt Stanzack (who runs Good Old Days) for some consulting and when he saw the basement he loved it. He and Clark saw something really awesome behind all that craziness! They began brainstorming an idea of a pizza place down there. From there it has just snowballed into this amazing, nostalgic, cozy, weird, super fun, amazing pizza place. I love the vibe down there and how its turning into such a fun spot. Our bartenders Shayne and Kyle have done amazing things with the cocktail program. Everything about the bar is so fun, the drinks are so creative and fit the these so well. "It Got Weird" and "Adulting" seem to be the two favorites, which I find so funny. I am really grateful for how GOD's turned out, if you haven't been… you have to go!
Ok this may be the toughest final two questions….Favorite item on the menu at Marygold's? And what's the best pizza at Good Old Days?
Good Old Days would be the beet salad and White Lightening pizza. Marygold's would be the new vegan tart and Molly's macarons!
One of the biggest things I've heard from Kate through our conversations & email exchanges, has been about how much the staff has contributed to getting Marygold's & Good Old Days off and running. She mentioned one of her favorite things is seeing the entrepreneurial spirit in her employees and watching them embrace their roles. Below are a few pictures of the team you'll find at Marygold's & Good Old Days!
Team members at Marygold's get ready for the day
Molly Kustanbauter, GM and Derek Kustanbauter Executive Chef at Marygold's. Fun fact: They are husband and wife!
Matt & Lizzy, the Pizza Masters at Good Old Days!
Nicole Avrin, Service Director at Marygold's, Good Old Days, & The Foundry. 
Beverage Director Kyle Mastropietro 
Marygold's on Main & Good Old Days are located at 19 Main Street, Newtown. Dining in and take out are available at both spots. Please visit their websites for hours, menus, and to make reservations. Follow Marygold's on Instagram or Facebook and Good Old Day on Instagram to stay up to date on the latest news.